Onteora High School
Class Of 1974
ANNOUNCEMENTS
Obituary - Hank Boucher
Mr. Boucher became our class advisor in 1972. The following obituary was posted on Facebook and I am sharing it with you. RIP Mr. Boucher.
Henry "Hank" Boucher of Waldwick, NJ died Thanksgiving Day, Thursday November 25, 2021.

Hank was born and raised in Rhode Island. He went on to get degrees from Le Moyne College in Syracuse, NY and The College of William & Mary in Williamsburg, VA.

He was a beloved science teacher for 34 years and Chairman of the Science Department at Onteora Central School in the Woodstock area of the Catskills, which he loved and where he raised his family.

His accomplishments while at Onteora included instituting programs for his students to study at Roswell Park Memorial Cancer Center in Buffalo, NY, and working with the Environmental Conservation of Ulster County. He also connected his students with the Woods Hole Oceanographic Administration in Massachusetts. He received the Outstanding Teacher Award presented by the Science Teacher's Association of NY. He was also honored by receiving "The Pride of Ulster County" award for his outstanding achievements and innovative way of making science exciting for those he taught. His students remembered him most for the impact he had on their lives, inside and outside of the classroom. After retirement, he was a hospice volunteer in Kingston, NY and was a Valley Hospital volunteer in Ridgewood, NJ.

He was passionate about teaching, but it's his role as a husband, father and grandfather that was closest to his heart. His family remembers him for his unwavering faith, generosity, and warmth – not to mention his legendary laugh and tight hugs. He was happiest surrounded by his family, whether leading them in a chorus of Alouette, reading his grandchildren T'was the Night Before Christmas or whipping up a batch of meat pie.

Hank is survived by his loving wife of 59 years Mary Helen (Donlon) Boucher and his four wonderful children: Michele (Dr. Michael) Wesson, David (Barbara) Boucher, Sandra (Adrian) Kerrigan, Nicole Boucher (Chris Neborsky), and 12 adored grandchildren: Paige Wesson (AJ) Guarente, Henry Wesson, Jake (Jackie) Kerrigan, Nicholas Kerrigan, Liam Kerrigan. Matthew Boucher, Andrew Boucher, Broderick Boucher, Mason Schick, Ruby Schick, Summer Neborsky, Slater (Brooke) Neborsky and one treasured great granddaughter, Margaux Mary Guarente. And of course, his rescued pomeranian, Butch.

He is also survived by a brother, Raymond Boucher of New Mexico. He was pre-deceased by his parents, Elzear and Rosanna Boucher, and his brother, Eugene Boucher. He also leaves many loved nieces and nephews.

A funeral mass will be held on Tuesday, November 30, 2021, at 10:00am, meeting at St. Elizabeth's R.C. Church, 700 Wyckoff Avenue, Wyckoff, NJ. Cremation will take place privately. Friends may visit with the family at the Browning-Forshay Funeral Home, 557 Lafayette Avenue, Hawthorne, NJ on Monday, from 5:00 – 8:00pm.

In lieu of flowers, memorial donations may be made to Valley Hospice, 15 Essex Road, Paramus, NJ 07562.

This tribute was provided by the Boucher family.
August 30, 2019
PICNIC UPDATE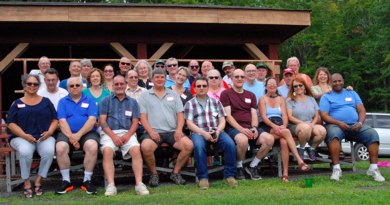 2019 Class Reunion photos are now posted and ready to enjoy.
Click here to access the pictures. These are in the Photos section.
I had a great time seeing everyone and look forward to our 50th!!
Maureen Mower